---
My Quick Deals Offers Discounts on Inland Valley Businesses
Somehow I stumbled onto a new daily deal site that I want to share with friends and neighbors in Claremont and nearby areas. It is called MyQuickDeals and it is like Groupon and the other daily deal sites only better because all the deals are for local businesses!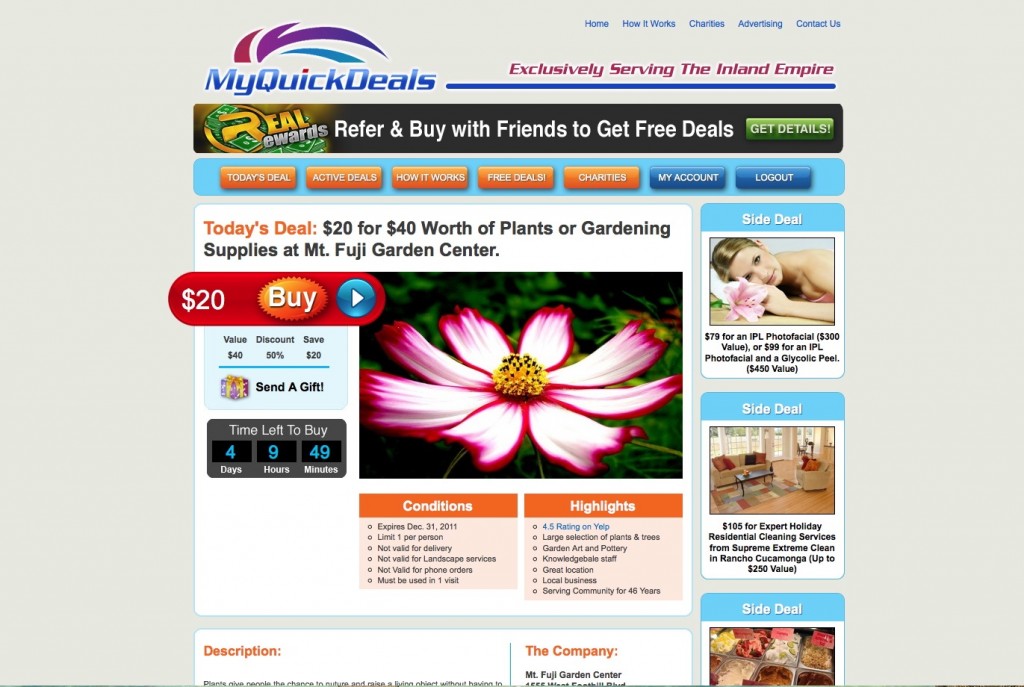 Like right now, they have a deal for half off at Mt Fuji Garden center. You spend $20 and get $40 worth at Mt. Fuji! Another deal on now is for $99 you can get an IPL Photofacial and Glycolic Peel at a local Medspa–normally that would go for $400. Another deal was $7 for $14 for of yogurt or gelato.
MyQuickDeals is a local business. And they need more local people to sign up. It costs nothing to sign up. You are not bombarded with emails etc. Just one email a day. The offers look good. And the company is giving part of the proceeds to schools and local charities.
Here is some info about them from an email I got from them"
We are family owned and operated, and based in Upland. We started our business two months ago hoping to do three things: (1) provide truly localized deals to our neighbors in the west end of the Inland Empire, (2) provide local businesses with an alternative to Groupon & Living Social, which both charge businesses more, and (3) give back part of our proceeds to help local charities and school programs. For our business to work we need to get more people knowing about and using MyQuickDeals.
I am inviting you to check them out and sign up to support them and other local businesses that offer deals. You will also be helping yourself because it looks like they have some great deals! Let me know what you think and if you take advantage of any of their offers. Pass the word.