Best Gifts to Give a Figure Skater
Tips on what to give a figure skater
When my daughter started figure skating, I had a hard time finding gifts that related to her sport. Local stores at the mall had no gifts for ice skaters. So I searched online and found the best sites from which to buy the best skating gifts. I am putting the ideas and links up here as well as some ideas for gifts you can make and even a few you can just pick at Target or another local store.
Please let me know if you have other ideas for ice skating gifts. I would love to hear from other skate moms who found good figure skating gifts. If you are a figure skater, let me know your favorite skate gift ideas to add to the list.
I tweet when I find good skate deals so follow me on Twitter.

ZÜCA Starz and Pink Sport Frame & Bag

Every figure skater wants a ZÜCA bag , the stylish little suitcase with a frame sturdy enough to double as a seat. And there are so many hot designs out there now! The frames and bags are sold separately so even if she already has one, get a second bag for a new look. They are expensive, but worth it. By the way, these things never seem to go on sale anywhere, but Amazon does seem to have a fair price.
14K Gold Ice Skates Charm Figure Skating 16.5mm
Try finding a delicate little 14 K gold skate charm like this at the mall . . . .  You just can't find figure skate-themed jewelry down the street.  But I found some beautiful skating jewelry online.
14k Gold Diamond Ice Skate Charm (1/10 cttw)
Wowee! Check out this gold and diamond skate charm!   This pretty ice skate charm is crafted from solid 14 karat gold and decorated with genuine diamond accents (1/10 cttw). Offered in your choice of white or yellow gold, it features a lobster-claw clasp that attaches easily to just about any chain or bracelet.
Sterling Silver 3D Ice Figure Skate Earrings 925
Gotta have the sterling silver figure skate earrings dangling from your ears.
Figure Skate T-Shirt
Sometimes you want to show the world you skate. It's hard to find skating-themed t-shirts in stores, but most print-on-demand online shops have a ton of choices. Anyone can submit designs at these places, so you have to sift through quite a few amateur designs before finding the good ones. When I get time I plan to try to come up with a few of my own designs.  Meanwhile, here are some from Zazzle.

create custom t-shirts at Zazzle
Figure Skate Mug
Zazzle and the other print-on-demand online stores also offer other figure skating gift items like mugs.
Tickets to Ice Show
Check in your neighborhood to see if an ice show is in town.
Tights
Ratty old tights are OK for practice, but a new pair of skate tights can make you feel like you are skating in a competition, even if you're not.  Maybe they can even make you skate better.  Amazon has a ton of styles both over-the-boot and under-the-boot.
Amazon has a ton of styles.
Blade Covers
Soakers wear out quickly.  A new pair in a colorful shade will make taking care of blades more fun.
Size Large Terry Cloth Blade Covers / Soakers
DVD Carrying Case
Skaters carry their own music to the rink to prepare for competition. Give her a glittery cd case to keep her music scratch free.  Maybe put her name and phone number on it, as these tend to get left behind. I could not find any extra specialones online, but look at Target or Best Buy etc.
Figure Skating Fleece Throw Blanket
You may use it more than she does if you are the one who watches her practice, but this fleece throw with ice skates on it is comfy and warm. This one is great or look at the local fabric store . . . . there is an off chance they have material and you could make on.
Hair Scrunchies
Pick up a few pretty hair scrunchies at the local Target or beauty supply.  Drug stores often have good ones.  Heck even the dolar stores sometimes have OK ones. If you sew, these are easy to make just using basic elastic and pretty fabric.
Books about Skaters (and bookmarks, too)
Books about Skaters and Skating
from Amazon will show you a ton of books. If you buy anything from Amazon, please use my link (I am an Amazon affiliate).  Bookmarks with a skate theme make a good gift as well if you can find any.  I am going to design some and put them up for sale soon.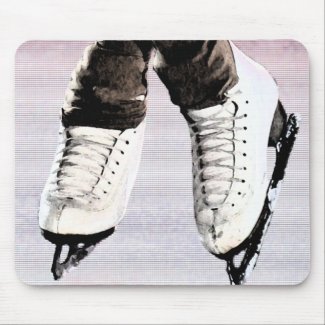 Artistic Skates
by
passionforskating
Create a
mousemat
on zazzle
Crafts about Skating
Check at your local Michaels or Joanns or other craft store for scrapbooking items about figure skating such as these and others.
Jolees Boutique Themed Ornate Stickers, Figure Skating
Christmas Tree Ornaments with Skate Theme
Cool Christmas Tree Ornaments with Ice Skate Theme
will link you up with some great holiday ornaments you can order online.  Ornaments is one area where the stores do seem to have a lot of choices, so look at Hallmark or stores in the mall.  I find Kohls has great ornaments.
Brand new skates and a new competition dress are great gifts as well, but I think the skater has to try these on.  So you might consider making up your own coupon for these gifts.  By the way, some of these ideas would work as a great holiday gift for a skating coach as well.  Good luck finding the right figure skating gift and let me know if this list helped.
Tips for Buying Used Figure Skates
How to Buy a Figure Skating Competition Dress
My Squidoo Lens on Figure Skating Dresses
My ehow article on How to Care for Figure Skates to Make Them Last