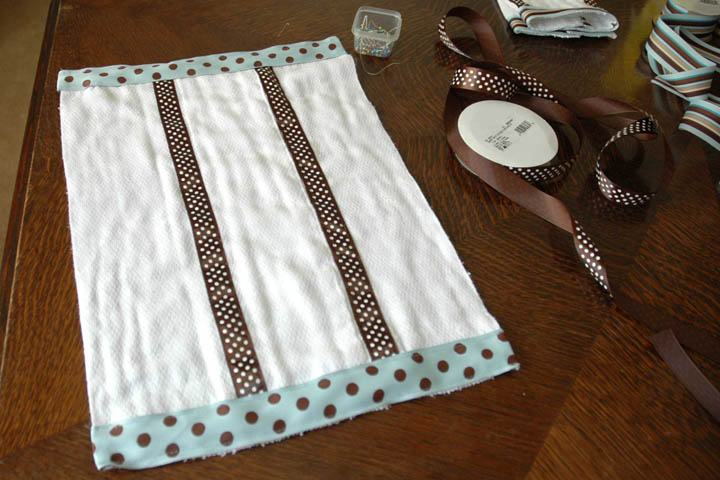 Easy Custom-Made Baby Gift

New moms really treasure handmade baby gifts. Here's an easy craft you can do with just cloth diapers, ribbon, and a straight stitch on a sewing machine. These cloths are perfect for throwing on your shoulder when holding baby.
Click on pics to see larger version.
Buy a set of cloth diapers and some ribbon.
Prewash and iron diapers to avoid shrinkage after you put ribbon on.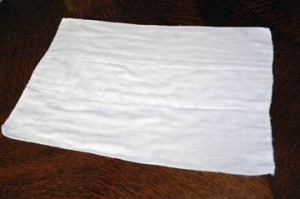 Measure and cut two pieces of ribbon that are the length of the diaper. These will go down the center.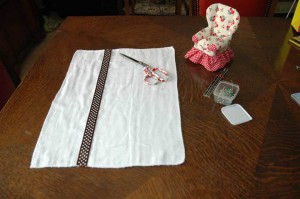 Next pin on the ribbon about a third of the way in from each side.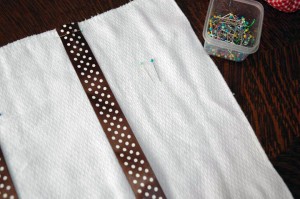 Sew down.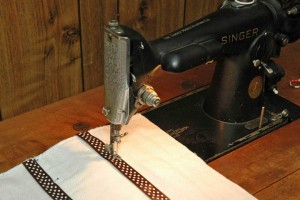 Next cut the ribbon for the bottom.  Make it about an inch longer than the width of the diaper so that you can fold over the ends to prevent fraying.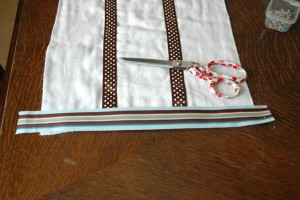 Use an iron to fold over the ends twice to create a nice edge.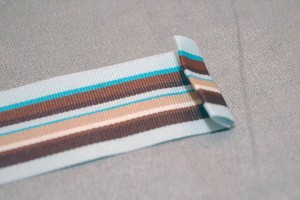 Wrap the folded edge around the back of the diaper, then pin the ribbon on at the edge.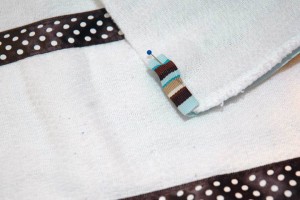 Now pin into place.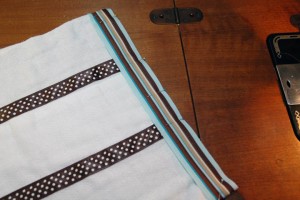 Sew it down along both edges of the ribbon.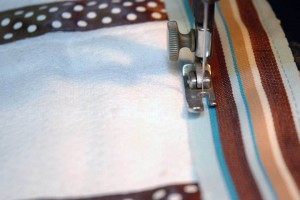 Trim off an excess threads, and you are done!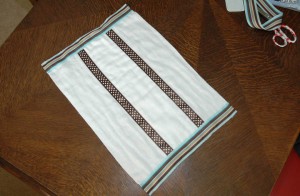 Use coordinating ribbons if you are making a set of baby burp cloths as a gift.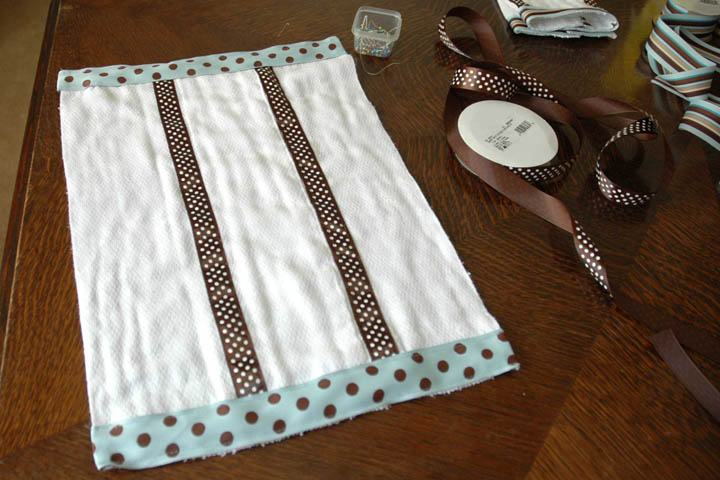 Every time the new mom uses these pretty handmade cloths she will think of how much her friends love and support her . . . the best gift of all for a new mom who may not be getting enough sleep and may be overwhelmed by motherhood. Let me know if you like this idea or if you have other suggestions. Did you know that Amazon has great deals on baby gifts
? You can read real customer reviews, which makes shopping easy. And many of them qualify for free shipping.
Check out my post on donating umbilical cord blood. I tell about my experience donating cord blood. If you want details on how and why to donate, read my hubpage on umbilical cord donating. I highly recommend donating cord blood. It is a precious fluid that is discarded if not banked for private use or donated.
Donating umbilical cord blood is free, and it may save a life.
Check out my post on how to make bookmarks from a photo. You could make a cute bookmark with baby pics.
Yoga is a great way for a new mom to get in shape and relax. Here's my post on how to make a yoga mat tote bag.
Creative Halloween Ideas for Halloween Decorating
Bestsellers in Baby at Amazon