Jedi Apprentice by Jude Watson: Best Star Wars Book Series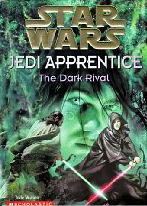 Can't get enough of all things Star Wars? Did you know that Star Wars characters live on in a number of different book series, many of them aimed at youth readers?
My son is a huge Star Wars fan, so we checked out every Star Wars book in the LA County library system, plus we bought plenty many for the collection on his shelf.  I've read most of them as well.  By far, our favorite series is the Jedi Apprentice Series
by Jude Watson (one book is by Dave Wolverton).
Jude Watson writes with great suspense, character development, and continuity of the Star Wars story.  She tells each story in a way that not only builds drama, but also reveals the Jedi ethos. She tells a good story that appeals to kids as well as adults.
Jedi Apprentice books have Accelerated Reading Tests. The AR interest level for Jedi Apprentice is between 4-6 and the AR points for Jedi Apprentice are usually about 4 points.
You can read each book out of order and it will make sense. But if you read the Jedi Apprentice series in order you will see references to prior books and the details keep continuity.
We have read other Star Wars book series, and they are OK, but Watson's are the best.  Highly recommended. All the Jedi Apprentice Books at Amazon
are available at this link.
A summary of the plot of each book at Wikipedia is below.
Related post:
Lego Rock Band Review