---
Cute winter village scene at Lego.com!
Toy Story Legos Review: Fun that Retains Value in More Ways Than One!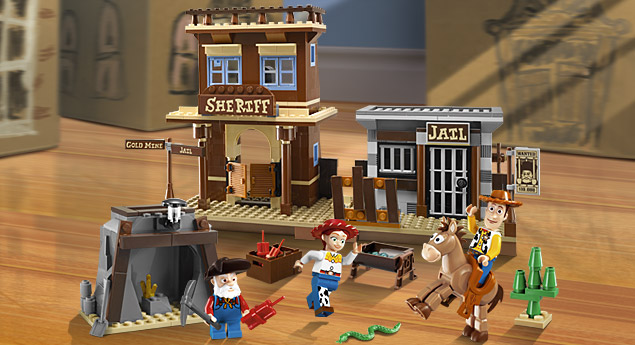 Legos are my all-time favorite toy. My sons loves them. And I do not even mind spending a small fortune on them. Legos are well made: they fit together perfectly, rarely break, and last forever. Legos inspire creativity, and more than that, they make kids think. I am always amazed at how my son uses pieces from different sets to engineer something totally new.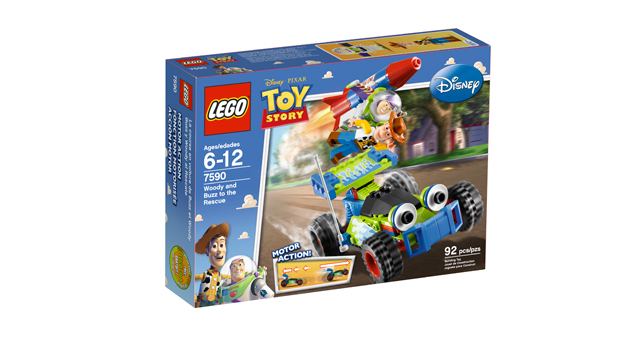 On a recent trip to the Big Shop in Legoland I was surprised to see a new genre of Lego sets based on an all-time fav kid movie: Toy Story! How cool is that? Classic Toy Story characters like Woody, Buzz, Jesse and Bullseye, and Stinky Peet, and even the little green army men and Zurg are now minifigs! If you are a Toy Story fan, you are gonna fall in love with them.
Introducing new Toy Story Legos
is yet another smart move by Lego Company, which has  flourished despite a down economy. According to a recent Wall Street Journal article, Lego has had a sharp revival: in  the first half of 2009, while "jittery consumers sent global toy sales down 5%, Lego increased its sales 23%."
Another thing I like about Lego toys is that if you keep a set in good condition and keep the box, the toy retains its value.  I learned that when my son wanted Star Wars Lego sets that were no longer in stores . . . and found you could get them on Ebay or a number of specialized Lego re-sell sites, but you would have to pay sometimes double or more the original price.  Even a rare minifigure alone without the rest of the set could go for $50 or more.
Like Star Wars, the 1995 Pixar movie Toy Story is a timeless classic loved by both kids and adults with sequels.  So I would expect that the original Toy Story Legos sets may someday be collector's items.  Hmmm.  Maybe these aren't toys, but fun investments?
Some collectors buy two sets: one for play, and one for the closet to be brought out at a later date and sold.  Hey, isn't selling old toys in original boxes a part of the whole Toy Story theme?
Toy Story 2 came out in 1999 to even bigger success than the original. Toy Story 3 is scheduled to be released in June, 2010.  So I bet more Lego Toy Story sets will be out in time for the movie's release.
If you have a kid who likes Toy Story, check out the new Toy Story Legos
, and if you want one of the original sets, I would act sooner rather than later.  You don't want to pay more on Ebay because you waited.
Another cool thing about the new Lego sets is that the instructions can be found online at lego.com. Now that we have Toy Story Lego sets, I wonder if Legos will show up in the next Toy Story movie. If you get a Toy Story Lego set, let me know what you think of it.
My favorite of the new sets is Toy Story Woody's Round Up Lego Set 7594
as it has Woody, Jesse and Bulleye (the horse) as well as Stinky Pete.  Plus it has a gold mine wired with dynamite, a jail, a sheriff's office, a safe, and a catapult trap in the sidewalk.
Toy Story Army Men on Patrol 7595
has little green army men minifigure that are too cute.
Lego has put out 6 sets so far, and more may be on the way. All are available on Amazon
and some purchases may qualify for free shipping.
Related posts:
Lego Rock Band Review
New Harry Potter Lego Sets Coming
Best deals on Legoland California
Great book series for boys: Review of Percy Jackson Series
Great Books for Boys with a Movie out of in the Works
One Response to "Lego Adds Toy Story Lego Sets"
GR's Toys & Gifts Galore Says:
April 15th, 2015 at 12:12 am

com and the occasional garage sale if you are lucky enough to find them.

Fear may also be caused by too much sensory information. This latest set
is full of playable functions and is simpler to maneuver.
Leave a Reply