---
Reviewed by sk8tergirl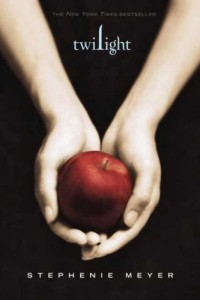 The Story

Twilight is about a high school girl who moves from sunny Arizona to rainy Washington to live with her dad. . . and ends up falling for a boy at her new school who turns out to be a vampire.
Characters
Bella Swan
Edward Cullen
Rating
5 stars! Plus googleplex stars!
What I liked

O.M.G.! I LOVE this book SO much! Twilight has it all: suspense, action, and drama all together! Even a little mystery. Not so good for guys, though. Really mushy, lovey-dovey. Cliff-hangers. Edge-gripping. CAN'T PUT IT DOWN! I liked the first book the best.
Other Books in Series
I could not put Twilight down, and I read the first book in one day.  I tried to get the next one at the library . . . but was number 422 on the waiting list at the LA County Library! The suspense was killing me, so  I had to go out and buy book 2.  Read that in one night.  Found I would have hundreds on the waiting list in front of me at the library for book 3, so I went and bought that one, too.  And then book 4.  You can now buy the series as a collection on Amazon, and if you do not have any of the books yet, that is what I would do. You save a lot of money that way.  And believe me, you are going to want them all right away!
New Moon
Eclipse
Breaking Dawn
The Movie
Twilight the movie
The movie was a hit and now it's out on DVD. I can't wait to see it. You can get it now through the first link at Amazon. Or pre-order the Amazon exclusive Blu-ray collector set version at the second link.
The Author

According to her official bio, Stephenie Meyer graduated from Brigham Young University with a bachelor's degree in English. She lives with her husband, an accountant, and three young sons in Phoenix, Arizona. The idea for Twilight came from a dream she had, and she did most of her writing for the book, her first, at night after the kids were asleep. She finished the first draft in just a few months.  She is in her 30s and is Mormon.
Awards and Praise
A New York Times Editor's Choice
A Publishers Weekly Best Book of the Year
An Amazon "Best Book of the Decade…So Far"
A Teen People "Hot List" pick
An American Library Association "Top Ten Best Book for Young Adults" and "Top Ten Books for Reluctant Readers"
Has been translated into 20 languages
Accelerated Reading
Level 4.9
Points 18
Number of pages
500
Publisher
Little, Brown Young Readers
ISBN-10: 0316015849
ISBN-13: 978-0316015844
If you just want to get the first book in paperback, here's the link.
See my review of Indie Girl.
Amazon has some cool Twilight merchandise. Here are my favs.
One Response to "Review of Twilight by Stephenie Meyer"
ann Says:
April 1st, 2009 at 10:12 pm

Here is an idea… you could now take the books you have and rent them out to a few of your friends, thus recouping the cost of the books and giving you more money to buy other new titles. it would be like a lending library. Each person that rented books could also write a book review for that book.
I have heard alot about Twilight, it sounds a little like some of the book by Anne Rice….another author you should check out when you are a little older maybe.
Leave a Reply