Should Obama pick a labradoodle?  We did. Smart. Cute. Fun.
When our labradoodle puppy Ginger feels she is not getting enough attention, she steals whatever is most precious to you and runs like crazy. Fast. Won't drop it . . . even for a cookie. If you open the car door to trick her into thinking it's a trip to the dog park, she won't buy it. Until you change your mind to actually go to the park. Then somehow she knows, and jumps right in. So smart.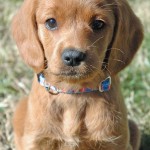 What does a labradoodle look like?
The fur can vary in color and texture. Depends on the fur of the lab mom and the poodle dad. Also on which generation the labradoodle is. First generation (lab and poodle parents) and second (2 labradoodle parents or labradoodle and poodle parent, for example). At one year Ginger's fur is still silky soft. Fur can even vary within the same litter. Ginger recently celebrated her one-year birthday by having a playdate with two of her littermates. One sister is more curly and one is more lab-like.  party photos
The size can vary as well. Depends on the size of the poodle dad, standard to miniature. Our labradoodle Ginger has a 12 lb dad, and her mom was a regular lab.  At one year she is about 30 lbs. Perfect size for us.
Do a web search and come up with tons of images that show the wide variety of size and fur. People are often surprised that Ginger is a labradoodle as she does not have super curly fur. They also are surprised by her small size.
Ginger is good natured and great with kids. A watch dog: alert with a big-dog bark, not a yappy little-dog one. Her faults: she does tend to whine a bit. And contrary to reports that labradoodles do not shed, she does. But just a bit.  First generations tend to shed more. Oh, and like I said, she steals your stuff.
Obama wants to adopt from a shelter.  Labradoodles and goldendoodles are popular now and most breeders fetch a good price. He may not be able to find a "shelterdoodle."
To see more labradoodle photos of Ginger as a puppy, check out my photo gallery: labradoodlephotos