A profile of the late author and Claremont resident David Foster Wallace, who taught at Pomona College, is now up on the New Yorker site. The article describes the struggles he went through that ultimately caused him to commit suicide.
An illustration by Philip Burke accompanies the article.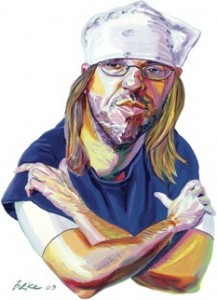 News is out that Wallace's publisher, Little, Brown, plans to publish an unfinished novel titled The Pale King in early 2010. The New Yorker is running an excerpt. The book is set in an Internal Revenue Service office in Illinois in the 1980s.
Related post: Philip Burke exhibit in Ananheim