Kids at my school are helping to turn garbage into profit . . . and helping the environment. Learn from our experience how to run a successful Terracycle drink pouch campaign.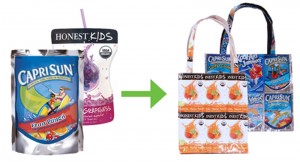 Terracycle is a company that enlists schools and other non-profit groups in collecting packaging that is usually thrown away. It pays a penny or two for each item and provides post-paid envelopes to send the "garbage" through UPS. Terracycle then makes eco-friendly products.
A teacher at our school thought Terracycle might be a good project for our school's "Helping Hands" initiative, an effort to have students give back to the community.
As parent coordinator of the project I learned a few lessons about what works and what doesn't. You can visit the Terracycle site itself for instructions on how to sign up and helpful FAQs. But these are additional tips not on their site.
Choice of Recycling Item
The first advice I have is to choose your "brigade" wisely. Depending on what they need, you can choose from drink pouches, cookie wrappers, potato chip bags, cereal boxes and even wine corks among other items. We signed up for cookie wrappers and drink pouches because we figured elementary-school kids would have lots of those to turn in.
At our school the cookie wrapper collection was a flop. Only a couple wrappers came in. But the drink pouches . . . .oh, my! We got an overwhelming response. Within a couple days the four collection boxes were overflowing. Advice: Pick something the kids pack in their lunch. The problem with the cookie wrappers is that kids have to make an effort to bring them from home.
Publicity
My next suggestion is to make sure the kids know exactly what goes in the Terracycle box. Kids love to recycle. You need to clearly label that only certain things go in the Terracycle box.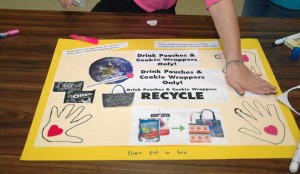 To publicize the campaign we scheduled an after-school project day. Kids were invited (through a flier sent home and by morning announcement) to help make posters and decorate collection boxes. We brought colored markers, poster board, glue sticks and cardboard boxes. I printed out a description of what could be collected and the rules. We made copies for the kids to glue on. Having this information printed up ahead of time makes it much easier for the kids to decorate and ensures that the rules are clearly posted.
We also asked all the kids who came to tell their friends about the project.
The principal then had three or four students go around to the classrooms to explain the project.
The principal mentioned the project again in the morning announcements.
The custodian was informed of the project and he helped let the kids know what to do as well.
Putting in Mailing Envelope
Now came the hard part: Getting the juice pouches in the mailing envelopes. They sent us 4 UPS envelopes with return labels. Once Terracycle received those four they promised to send four more.
I came at lunch one day and asked for volunteers to help.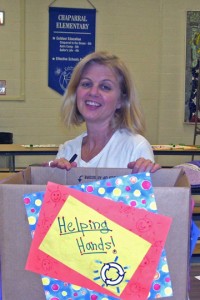 The problem was that the juice pouches retain little drops of juice. Terracyle prefers that you cut off the tops of the pouches and let them dry out. But we did not have time for that. So the kids removed the straws and flattened them. At first it was very hard to get 100 in an envelope and get it sealed. The pouches kept sliding around and it was big mess. The envelopes do not have an airtight seal so drips came out! Solution: stack the envelopes in groups of 10 and rubber band them. Then put the 10 stacks in. That worked much better. For the last envelope I first put the 10 stacks in a ziploc baggy. That way no leaks could come out. (I felt bad about using a plastic bag, but it worked really well).
Timing
The most challenging part of a Terracyle campaign is timing. The UPS site took my envelopes and I waited for the next four to come from Terracyle. Only weeks went by and the next set did not come! Meanwhile the drink pouches were piling up. Our custodian was an angel and put them into a trash container that he kept for us. But even that got full.
Hundreds of silver pouches in a trash can is a sight to behold. I hated to think of all that garbage going to a landfill. I wondered how long it would take to decompose. So I was proud of us for signing up with Terracycle. But each day I was avoiding the eye of the principal and the custodian because I was not sure how long their patience would hold out. We now had two trash cans full.
Emails to Terracycle pleading for more envelopes went unanswered. Finally I had the custodian dump out the overflowing trash cans of pouches. They were starting to stink. This was turning out to be a lesson for the kids not about the environment, but about bureaucracy.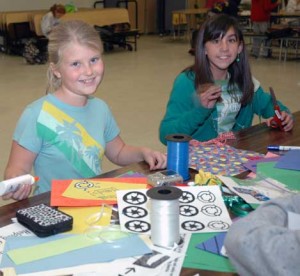 Finally I did get a apologetic email from Terracycle. It seems that tons of new schools have been signing up and they are struggling to keep up with the overload. But more envelopes are on the way.
The lesson: make sure you send your 400 drink pouches off as soon as you can so that you do not have them piling up. And let Terracyle know right away if you think there is a delay.
Our project is on hold until more envelopes arrive. Of course, I would prefer if parents sent their kids off to school with a reusable container. But overall, I think Terracycle could be a great project to divert trash from the landfill and teach kids about environmental responsibility. If you have a Terracyle campaign, let me know how it is working for you by commenting below. I hope these tips help.
Show your support by "digging" this post. Just click the digg button above.
If you want to learn more about this company, check out this new book Revolution in a Bottle by Tom Szaky at Amazon. It tells the story of this amazing company that is turning trash into profits.
Amazon also sells Terracycle products. See links below:
Related posts:
By the way, some of my eco designs are now available on tote bags (a great alternative to plastic shopping bags) at printfection, a great custom print place that has a money-back guarantee.