Reviewed by sk8tergirl
The Story
Indie Girl is about an Indian girl who absolutely loves fashion. So when the editor of her fav fashion magazine comes to her school, she will do anything to try to land a summer internship with her . . . even babysit the administrator's two-year-old son. When Indie finds out the magazine is going down the toilet, she finds out some juicy info. She saves the fashion diva's job! But the editor gives no thanks. Indie's parents do not approve of her choice to help. Indie wonders: will Aaralyn, the diva editor, ever see her as anything more than "the sitter."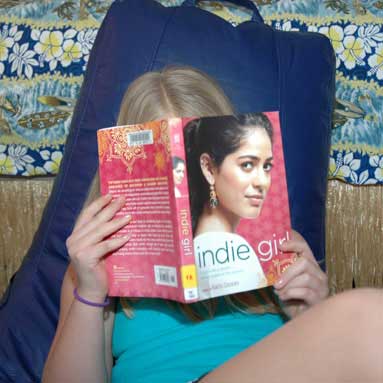 The Characters
Indie Konkipuddi, a 15-year-old girl who has always dreamed of being a reporter.
Aaralyn Taylor, the fashion editor of Celebrity Style, who visits her school for an assembly.
Rating
4 stars
What I liked
Great plot.  Even though it was about celebrity fashion, the book had a new twist because the main character is Indian. You learn about a whole new culture. I loved Indie Girl.

The Author
Kavita Daswani started her writing career when she was just 17 in Hong Kong. She moved to Los Angeles when she married.  She has been a fashion correspondent and has written several books including For Matrimonial Purposes, Salaam, Paris and The Village Bride of Beverly Hills.
Daswani also writes articles in our hometown newspaper, The Los Angeles Times.
Accelerated Reading
AR Quiz No. 119691 EN Fiction
Level 6.5 – AR Pts: 9.0
Publisher
Simon and Schuster, 2007
Kindle Version
See my review of Twilight.