---
Z

uca Bag Review: Best Bag for Figure Skating Gear
Visit any rink with serious figure skaters and you will find colorful square Zuca skate bags lining the walls. What makes the Zuca bag so popular with skaters is that is that they are cute; they store a ton of stuff, and they are sturdy enough to sit on. Click on any bag for more info and pricing on that bag.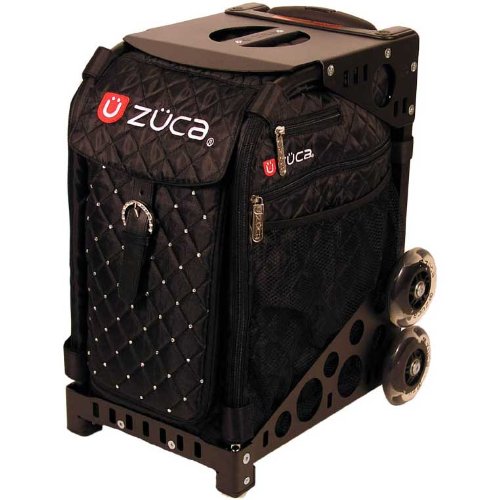 What Makes a Zuca Skate Bag Cute? For many young figure skaters, skating is more than a sport, it is an expression of their identity. Zuca bags appeal to young girls and teenagers because they can create their own look. You buy frame separate from the bags itself . The frames come in trendy colors and the bags come in hip patterns. Part of the fun is coordinating the frame and bag. And the fabric choices will amaze you: pink camouflage . . . black with sparkly crystals . . . lime green with pink polka dots . . . Hawaiian . . . .turquoise and brown . . . The list goes on and on. You can also add flashing wheels and add a skater's name in embroidery or in rhinestones.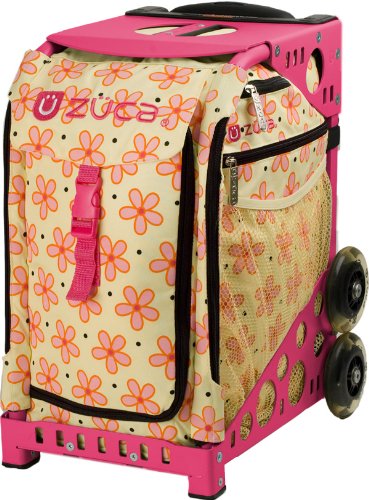 How Much Stuff Can Fit in a Zuca Skate Bag? The roomy size and thoughtful design (pockets and shelves) allows skaters to store skates, blade guards, music, gloves, sweatshirts, tights, water bottles, and other accessories.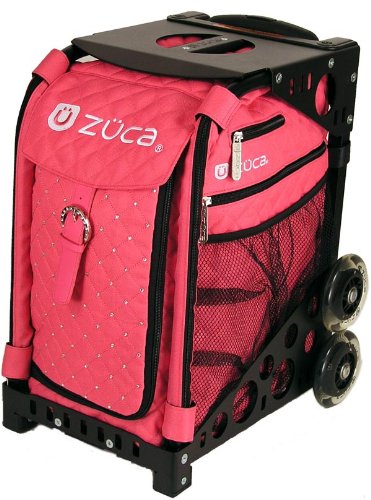 How Strong is a Zuca Skate Bag? The frame of a Zuca bag is so strong that skaters can sit on it. A Zuca frame is the perfect height for a little stool that skaters sit on when putting on and taking off skates or when resting. Many rinks lack adequate benches so the bags are constantly in use as a seat.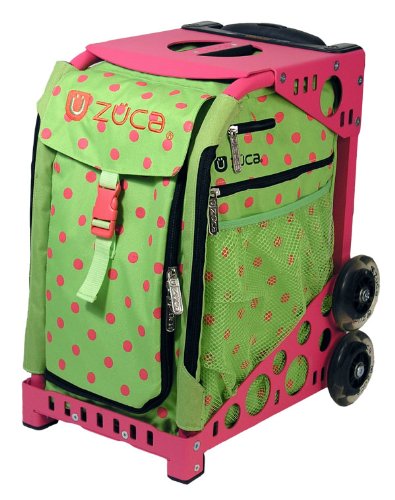 How Much is a Zuca Skate Bag? Zuca bags cost a pretty penny. The frame runs from $100 to $150 and the bag runs another $50 or so. But the skaters LOVE them and they really are well made and will last forever. You can buy the bags separately if you want to update your frame.  Zuca bags can be used for other purposes besides skating. Photographers love them to cart around heavy gear as well.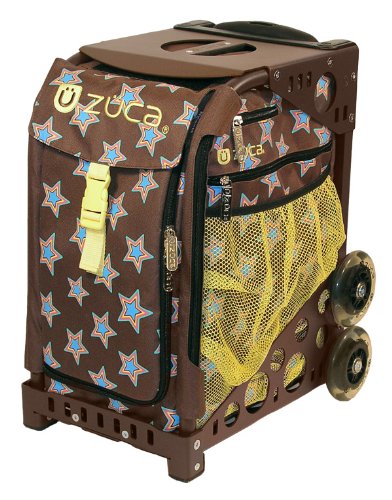 Where Can I Buy a Zuca Skate Bag? You can buy Zuca bags at some skate shops, but the skate shops will not offer the full array of choices. the best way to buy a Zuca bag is to check them out online.  Amazon has several sellers with a wide array of choices and good prices. Click on any bag here to go to a seller.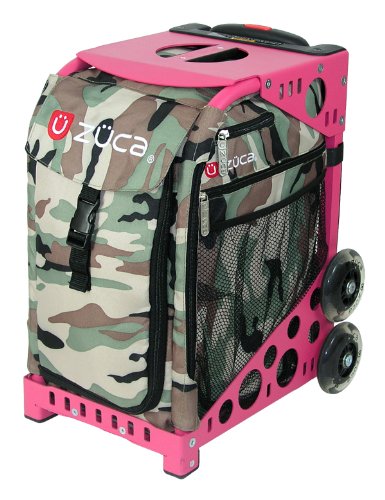 What's the Best Way to Give a Zuca Bag as a Gift? Gifts are all about unwrapping a surprise, but the best way to give a Zuca bag is to give a certificate for the bag.  That's because half the fun of a Zuca bag is picking out the color of the frame and the fun fabric of the bag yourself.  You don't want to pick the zebra bag with a black frame , when what she really wants is the turquoise bag with the brown frame!  Solution: Print out pics of the best Zuca skate bags and put them in an envelope! She will be thrilled to see all the choices and excited to know she can make the final decision herself.  I've put pics of some of my favorites on this post.  Feel free to print them out if you like the envelope idea.  By the way, each pic has a link to the Amazon store where it is sold. If you do buy from Amazon, please buy through my link. Thank you for your support. Let me know what bag you like best.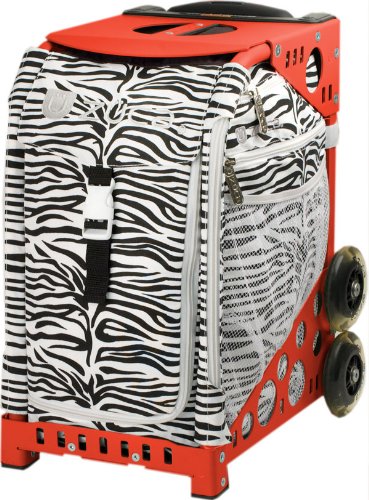 If you like this post, please Digg it, tweet it and share it!
Related posts:
How to Buy Figure Skates for a Beginner
How to Buy a Figure Skating Competition Dress
My Squidoo lens on figure skating dresses
Best Gifts for a Figure Skater
Tips on Buying Used Figure Skates
My eHow on How to Sharpen Skates Properly to Give You an Edge.
My eHow on How to Skates for Skates Properly to Make Them Last
Skating at Rockefeller Center Ice Rink: Is It Worth It?
Text and all photos copyright by kpdesign, creativezazz.com
I tweet when I find good skate deals so follow me on Twitter.