Learning How to Surf at a Surf School Near San Diego
I always hated the sand dripping from my brother's wet suit in the shower growing up in Huntington Beach. He never cleaned out the tub. I adored the smell of the surf wax on his board though. I spent about a decade living at the beach, but I never tried surfing. I regret it now, not only because I missed out on the thrill of catching a wave, but because now I cannot teach my kids how to surf.
Barbie Surfing
by
barbie
See other
Barbie T-Shirts
When my daughter wanted to try surfing during a camping trip to San Elijo a few years back, a friend took her out on his 10-foot surfboard, and she loved it. The next year we gave her a certificate for a surf lesson for a Christmas gift. When summer came we went back to San Elijo, which is in northern San Diego County, and she got her lesson at the Billabong Eli Howard Surf School located right in the campground. This summer she went back to the same surf school and her younger brother took a lesson there, too. See my review of this surf school below.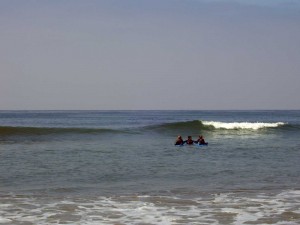 If you've never surfed, but you want to help your kids want to try it, here's some tips.
Follow basic safety precautions:
Make sure they are strong swimmers.
Make sure they have experience swimming in an ocean, not just a pool.
Make sure they know what a rip tide is, and how to swim perpendicular to the shore to get out of one.
The next step is to pick your beach and your instructor:
Pick a beach with one- two-foot waves that come in slow sets and a beach that does not have dangerous rocks. The season and time of day make a difference.
Pick an instructor who is patient and enjoys kids. A friend who surfs may work fine (and do it for free). But you might want to try a surf school for the very first time. These instructors have been trained in water safety. They also have experience in explaining a sport that is a bit hard to explain. Most important, they know how to help "launch" a beginning surfer. You will not have to buy or borrow a surfboard if you use a school as they usually have long foam boards. These board are easy to learn on and softer if they hit you in the water. Surf schools usually offer wetsuits during the lesson as well.
To find a surfing school, just Google the words "surf school" or "surf camp."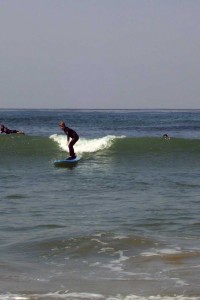 The school at San Elijo was professional. It offers private lessons, semi-private, or group. They also have surf camps for summer.
A great feature of this surf school is location. You can take camping gear and make a trip out of it. Surfing lessons are not inexpensive, but if you camp instead of staying at a fancy hotel, you can save in lodging. 
The waves at his beach are perfect for beginners. The water is pretty warm . . . in late summer you do not even need a wetsuit.  The vibe is good for families. And there are great restaurants nearby if you want to camp and fall asleep to the sound of the ocean, but do not want to do your own cooking.
If you are looking for a great gift idea for Christmas, a birthday, a graduation or another special occasion, a surf lesson may be a great idea.
Pics of our surf trip are up in the gallery.
Let me know if you have other suggestions for non-surfing parents who want to help their kids learn to surf.
If you are going to be out in the sun for long, use plenty of sun block and try Zinka the kind the hard core surfers use. They sell it at the camp store at San Elijo and you can get it at Amazon.
Also, be sure to take a camera so you can capture an experience they will want to remember.
Dropping In
by
TinkerM
Browse the
prints and posters
at Zazzle