Molly's Legacy . . .
Our Experience with the Willed Body Program for Veterinary Education
When Western University of Health Sciences in Pomona decided to add a school of veterinary medicine, I was thrilled.  Not because I wanted to become a veterinarian.  But because as WesternU's director of publications, I could use my own very photogenic dog as a model for promotional materials.
I had long used children of employees in photo shoots for PR materials about the WesternU's other programs (osteopathy, physician assistant, physical therapy, and pharmacy).  But at that time I had no children, at least not human ones.  This would allow me to feature my beautiful Dalmatian, Molly Marie.
Sure enough, we did a photo shoot featuring Molly and a few other employees' dogs with the new dean,  Shirley Johnston.  My spotted sweetheart appeared in magazine articles and brochures about the school.  I was so proud.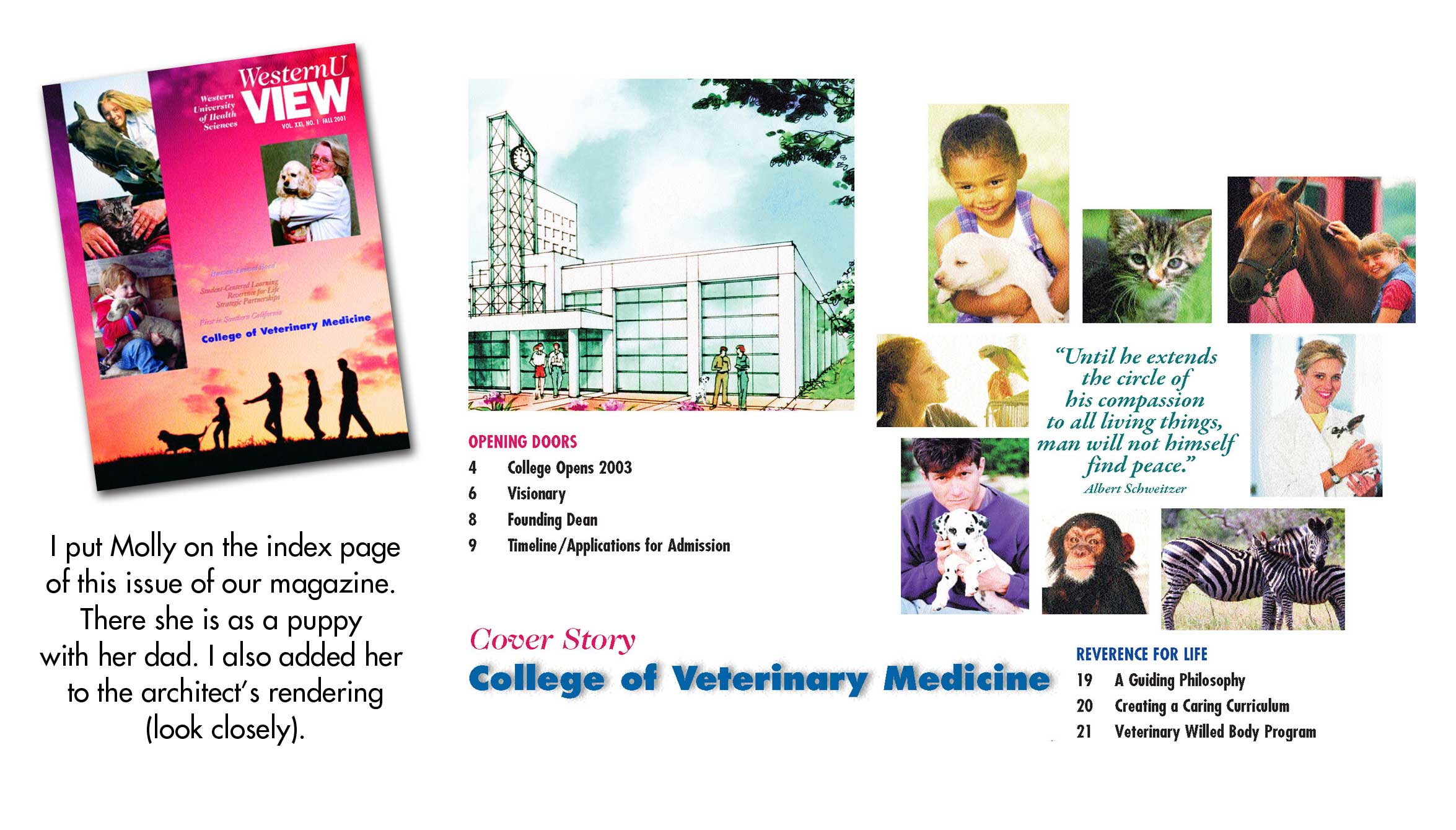 Molly also enjoyed a taste of fame when she because the first dog featured on the "Friends of the Claremont POOCH Park"  t-shirt and stationery.  Molly's dad and I were among those who first lobbied the city and helped raised money for a dog park.  I did the graphic design for the group's stationery and t-shirts.  John served as first POOCH Park "president."  We still have the "golden" poop scooper presented to the group by then-mayor Al Liega when the park was dedicated.  Many shirts with Molly's image were sold to raise money for the park's fencing.
(I've been asked if these shirts are still available. None of vintage screenprinted are left. But I put the design up on Zazzle, so you can still get the original design. Below is a link.)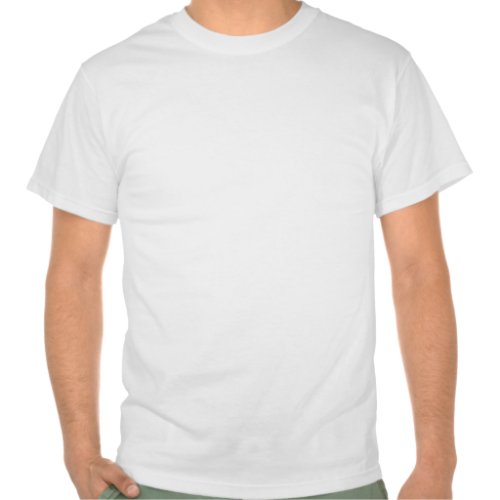 POOCH Park
by
creativezazz
View more
Dog T-Shirts
Molly even appeared in the LA Times. When the film  "101 Dalmatians" came out, I wrote an article  about Disney's unwillingness to do public service about the responsibilities of owning this particular breed.  It ran with a photo of us in the Calendar section.
So Molly has had a bit of fame.  She is 13 and half now, and no longer the beauty she once was. The ridges of her spine stand out on her back. Her hind legs collapse. Her ears, once so soft and perfectly spotted, now feel crinkled and stiff, the result of hematomas that did not heal despite surgery. Her brown eyes are still outlined with gorgeous black "eyeliner" spots, but they have lost their brightness. Her fur is thinning.  At least her nose is still wonderfully heart-shaped, the result of serendipitously placed spots.
There are hundreds of miles on Molly's paws. We took her everywhere: Pomona's College's quad; the big field at Scripps; Vista Elementary school; the Claremont and Upland dog parks; Thompson Creek Trail; the Claremont Wilderness Park; June Vail Park (at night, of course, because technically dogs are not allowed); the trails in Mt. Baldy; and dog beach in Huntington Beach (her favorite spot).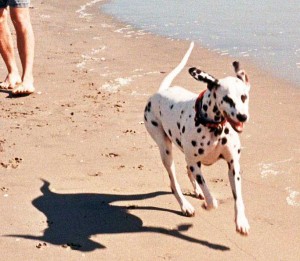 Our dear Molly suffers from a number of geriatric problems. We have made the tough decision to have her put down so she will suffer the ravages of old age no longer.  We have also decided to will her body to  WesternU's College of Veterinary Medicine, the school she helped promote a few years ago.
Because the college emphasizes a humanistic approach, it does not accept cadavers from shelters.  Instead it has a willed body program similar to that of medical schools.  Now Molly's legacy will live on in a new way: in knowledge gained by a veterinary student who will read her chart and dissect her body to learn how to mend other dogs. Eventually, her remains will be cremated and spread at sea.
Of course, Molly's most important legacy of all will be to our family.   We loved her.  And she gave love and loyalty back the way I think only canines can.
Written by Kim Peasley.  This article was published in our local newspaper, the Claremont Courier.
Click here for more information on WesternU's Willed Deceased Animals for Veterinary Education (WAVE) program. Other veterinary schools may have programs as well.
Related posts:
How to Cope with the Loss of a Pet
How to Donate a Pet's Body to a Veterinary School
How to Help Kids Say Goodbye to a Pet
When you donate a body you are asked to give the pet's medical charts as well.  I included this article and a photo collage (below) so that the veterinary student who learned from her body could gain an understanding of her life as well. Click on any image to see a larger version.