---
Lego Rock Band Review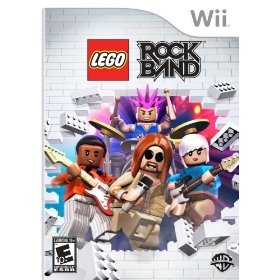 Legos, rock music, and video gaming, what more could you ask?
The new Lego Rock Band
videogame works with your existing Rock Band instruments. In the minifig version of the rock band, those cute little Lego minifigs rock out with you as you strum along on your guitar, beat the drum or sing as notes fall down from the top of the screen. The game features an eclectic list of songs, a charming story and loads of fun gameplay. You can play on your own or with up to three friends.
Lego Rock Band is kid friendly, and even includes a super-easy mode for younger players. You can turn off the kick pedal for drummers for beginners or even play a shorter version of any track. The 45 songs are fun, but you cannot expand Lego Rock Band's catalog through the Music Store, nor does the game have an online play element. My kids have been playing this since Christmas, and they love it. One thing I like: the songs are good, so I do not even mind them playing it loud.
The minifig characters charm, just like they do in other Lego video games.
Well worth the money.
The game runs about $50, but you need to buy instruments separately. If you do not already have instruments, you might buy Rock Band 2 Bundle
. Although this special edition is in short supply, Amazon does have it in stock for about $140 for the Wii version. You might also consider Beatles Rock Band Bundle
, although that is pricier.
Amazon sells Rock Band 2 as just the game or as a special bundle. Check out the Amazon link below, then choose your platform and then and choose "special" to order the bundle. I would order it soon as it is sold out in most stores now and may sell out on Amazon as well.

Related posts:
How to Save Money at Legoland
New Toy Story Legos: review
Jedi Apprentice Book Series Review