Buying used figure skates is risky business. But you can save half off or even more. Check out these tips from a figure skating mom.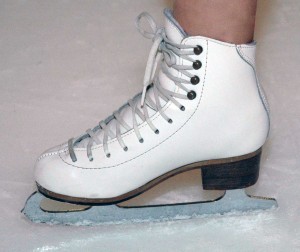 Check eBay and other online sources (search "used figure skates" also try "ice skates"), and you will see lots of offers.
Check this link for skates at Amazon
and you will find both new and used skates.
You can also find used skates at some skate shops and sports shops. Also check bulletin boards at the rink. Don't buy the first cheap skate you see.
What to avoid: anything with heavy creases at the ankle, a sign that the boot is broken down and won't support you; rough patches inside the boot, which can lead to blisters; and rusty or nicked blades.
Be sure you consider only boots and blades that fit your level of skating.  Do not buy a boot for a more advanced level, just because you can get a deal. More advanced boots are stiff to support jumps. You do not want super stiff boots if you are a beginner. New skates for advanced skaters are too stiff for beginners. The toe pick is also too big for beginners. Used skates can be less stiff, but the toe pick stays the same . . . still too big for beginners.
You take a risk when you buy used skates online because there is no way to test how broken down the leather is. That being said, I bought my daughter's third pair (pictured here) used from a shop in New York without trying them on (we live in Southern California). They were the same brand and model as at our shop but half the price. I think I paid about $110, whereas the shop at the rink was charging about $250.  The photo and description looked good. And I felt comfortable about the shop owner after she told me exactly how to measure my daughter's feet and asked many questions about her skating level. She sharpened the blades and threw in a pair of soakers. The only flaw: the chrome on the lace eyelets was not as shiny as the brand new ones her friends had.
I think used skates in good condition might be just fine for a beginner if you are careful about what you buy. A beginner might even like the fact that the skates were "broken in" a bit. More advanced skaters needing stability for jumps should probably steer clear of used skates. If possible have a coach check used skates out before you buy.
ZÜCA Spotz and Pink Sport Frame & Bag
With the money you save buying used skates, you could get a ZÜCA bag. This is the hot bag to have for the ice. Amazon has them in all different colors and styles. If you buy through Amazon, please use my link (I am an Amazon affiliate).
If you are a skate mom and spend a lot of time at the rink, check out the Amazon Kindle. The best way to read while your daughter skates!

If you are thinking about buying new skates, please read my tips for buying new figure skates first.
Whether you buy used or new, please be sure to dry the blades after each use (so they won't rust). See links below for more information on proper care of skates and blades.
Let me know if these tips on buying used ice skates helped. Good Luck.
For more skating tips, follow me on twitter
Follow @figureskatezazz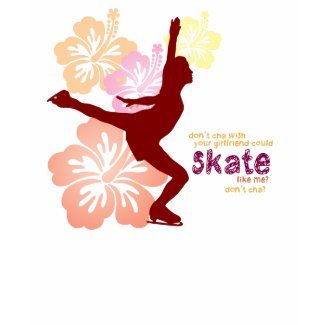 Ice Skating Tee
by
skatingislife
View other
shirts
designed online at Zazzle
Related posts:
How to buy a figure skating competition dress
Best Gifts for a Figure Skater
My eHow on How to Sharpen Skates Properly to Give You an Edge.
My eHow on How to Skates for Skates Properly to Make Them Last
Best Zuca Skate Bags
How to Buy Figure Skates for Beginners
Text and all photos copyright by kpdesign, creativezazz.com
I tweet when I find good skate deals so follow me on Twitter.