---
Make your scarecrows: Take an old pillow and tape it to a hanger with duct tape. Then add a sturdy stick or pole. You can stick the pole in an old umbrella stand, a big pot filled with sand or attach to a saw horse. Hang the outfit over the hanger and then add straw, corn stalk or raffia to make the legs and arms. Heads can be scary Halloween masks or skulls you attach to the top of the hanger.
Add detail: Look for hats, gloves, scarves, purses, suspenders, jewelery and other accessories that complete the outfit. The details are what gives the scarecrow the WOW factor. Our flower girl has real leather gloves, a hat trimmed in black lace, and a flower basket adorned with a bat. Our ring bearer has suspenders, a cummerbund and a custom-made pillow.
Add Scary: Pick up some creepy bugs and spiders at the dollar store. Use a glue gun or a needle and thread to attach them to the clothes and accessories. My flower girl, for example, has bugs spiders and little rats crawling all over her dress and hat. The boy has lots of spiders.
Build the Scene: These scarecrows are cool, but they might not win a prize on their own. You need few props to set the scene. I used a garden trellis decorated with black and purple netting, purple spider webs, and black flowers to give the feel of a wedding alter.
I threw some black material over a small table so we could add a cake and champagne glasses.  The cake is a hat box beautifully painted by my sister.  I got a cheap cake topper and added the heart of Frankenstein and his bride. I used a glue gun to add bats to some plastic wine glasses.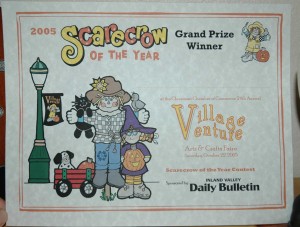 Let me know if you like my scarecrows. We won a couple other years as well with other designs. I'll try to post those soon. Happy Halloween!
View my squidoo lens on making scarecrows.
I love these black crows from Amazon.

Find great papercraft ideas for Halloween in this book.

Amazon's Halloween store has tons of great ideas for Halloween!
Other craft posts:
How to Make a Yoga Mat Tote Bag
How to Make a Tassel
How to Make Bookmarks from a Photo
How to Make Designer Baby Burp Cloths Using Ribbon
10 Responses to "How to make a prize-winning scarecrow"
Leave a Reply